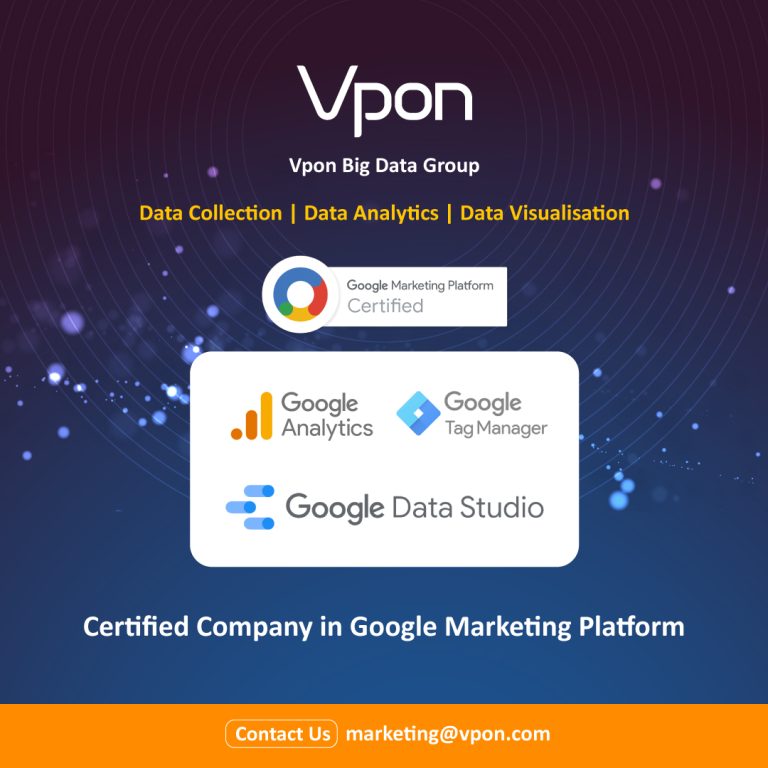 Vpon, a leading big data company in Asia has successively obtained two technical certifications as a Certified Company of Google's official Google Marketing Platform (GMP). Vpon has long been committed to providing standardized data solutions for enterprises and organizations. Its products have been certified as Google's official Google Analytics (GA) technology partner in September 2021. This year, it has successively obtained Google Tag Manager (GTM) and Data Studio certification, the three critical processes of customers' first-party data construction service: data collection, data analysis, and data visualization, have all been professionally recognized on an international level, and have simultaneously propelled Vpon's product development and optimization of data services, providing comprehensive GA4 first-party data collection and analysis services. In light of Google's launch of a new version of the data management platform GA4, all users are required to convert and migrate to the recent performance. Vpon has become an indispensable partner for users who have demanded such regard.
Vpon has a unique positioning and professional technical team in the data field, which has won affirmation from top customers and investors, including top high-end Asian customer groups such as multinational government units and the financial industry, and has received investment from the Japanese government. Its international C-level management team is a collection of top talents from Taiwan, Hong Kong, Japan, and other regions. A credit to its big state-of-the-art data and artificial intelligence technology, Vpon can provide high-quality, large-scale data in Asia, establish cross-border data partners, and provide customers with high-quality data solutions and artificial intelligence solutions. Vpon also launched a cross-border data trading platform Wee Global Data Marketplace, to offer an integrated service, constructing a regional-level data ecosystem by allowing enterprises to access third-party data sources to expand their member base. In addition, Vpon has passed the ISO27001/27701 certification, among others, enabling the obtainment of data through legal methods compliant with international standards, setting a benchmark for data security enterprises.
Victor Wu, Founder, and CEO of Vpon Big Data Group, the multiple-year winner of the National Brand Yushan Award for Outstanding Business Leader, said: "We have a professional team for data collection, data analysis, and data visualization, being certified for the three official Google certifications of GA technical partner, GTM, and Data Studio is a monumental affirmation for us, which further established our goal and determination to expand from Asia to the world. GA3 has left its mark in history, and GA4 will inevitably become the mainstream analytics tool in the future. As an officially certified GA technical partner, accumulating experience in GA4 construction, including basic GA4 account health checks and advanced raw data exporting, such as analysis and modeling services, can help enterprises or organizations to deploy and build first-party databases as soon as possible, getting a head start in generating leads."
According to Google's official announcement, GA3 will be replaced in July 2023. Enterprises and organizations that relied on GA3 in the past must migrate and convert to GA4 applications. GA4 is different from GA3 in the sense that it can integrate data collection from both mobile apps and websites at the same time. In response to the wave of changes, Japanese footwear retail channel ABC-Mart has advanced its digital plans to take the lead. Through professional assistance from Vpon, ABC-Mart provides a one-stop service, leveraging first-party data management platform solutions, which covers GA4 and GTM complete event code construction services, data analysis, modeling, and visualization, with integrated information from sources such as sales data, commodity information, chain stores, and others, as well as linkage with the marketing application platform. Moving forward, the scope of work can also be extended to third-party data through the Wee Global Data Marketplace, which will help ABC-Mart plan more efficient sales strategies in the long run. Through professional technologies, Vpon assists ABC-Mart in providing valuable analytical results with artificial intelligence solutions, which are services that transcend what standard agencies can provide.
Simon Chang, Marketing Director of ABC-Mart, said: "Faced with the exit of GA3, we must actively invest and deploy GA4 as soon as possible to gain marketing opportunities. Since the pandemic, ABC-Mart has begun to introduce membership apps. Under the previous GA3 structure, it is impossible to track the user's cross-platform data completely. I am delighted to cooperate with Vpon at the end of last year to help us standardize internal and external data, connect various platforms, and conduct cross-platform construction. We can deal with complex data through Vpon's expertise in the data industry. During the pandemic, we used data to optimize the system, predict market trends, adjust strategies based on different segments of usage data and change our strategies. Whether digital advertising or reference data for external cooperation, Vpon's insights allow ABC-Mart to grasp operational status in real-time and adjust the marketing policy flexibly to achieve our goals."
Vpon has a comprehensive service specially designed for conversion to GA4. It also provides an account health check service, which can help customers in need receive customized advice, including console checks, raw data export, event tracking, 22 complete reviews for e-commerce settings, and more. (Click here for more information) The Wee Global Data Marketplace cross-border data trading platform, recently launched by Vpon in Japan and Taiwan, has attracted top-of-the-industry data partners to join (VISA, Macro-Micro, Digital Transformation Association, National Chung Cheng University Artificial Intelligence and Sustainable Development Research Center, etc.). (Learn more) Vpon, which continues its aggressive development, will lead the market and continue providing customers with the most efficient data solutions.