Government Big Data Solution
Data Governance Accelerates the Precise Management of Smart City
The Data-driven Integration of
AI Technologies for Smart City Development
Upgrading Public Services through Data:
Precise Governance Accelerates Smart Urban Development
With its wealth of data strategy experience, Vpon assists government departments in building a comprehensive data journey, delving deep into every data pathway. By leveraging the largest mobile and footfall data in ASIA, we uncover blind spots in urban development and utilize data visualization and AI technologies to gain insights into key demands, thereby accelerating the smart city development.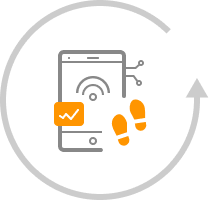 Online Footprint Insight Strategy
Assisting government agencies in identifying key data in Apps and websites, enhancing audience experience through backend optimization, and increasing user engagement.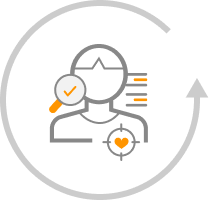 Audience Preferences and Trend Analysis
Leveraging the largest database of consumer and mobile footfall data in ASIA to analyze and uncover the demand of potential audience segments, effectively enhancing civic satisfaction.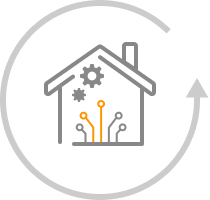 Smart City Data Infrastructure Planning
Transplanting the rich experience of collaborating with the Japanese government, assisting Taiwan or other countries in building a data-driven smart government for informed decision making.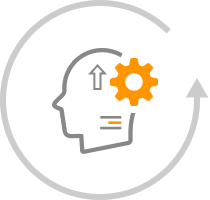 Accelerating
Goal Achievement Rate
Bringing together the top data teams in ASIA, focusing on government needs, and introducing AI models to effectively reduce operational costs and enhance governance outcomes.
The Largest Mobile Footfall Database in ASIA Region
Vpon provides comprehensive developer and consulting services to assist government agencies in obtaining, analyzing, visualizing, and applying data. By leveraging data analytics, we help government agencies gain insights into municipal conditions. Furthermore, with the largest mobile footfall data in ASIA, we can provide an objective 360-degree view of the audience within legal and compliant conditions (with Privacy ISO Certifications), along with corresponding strategic recommendations. This can be applied to various government policy objectives, including tourism, economy, business district activities, transportation, and more.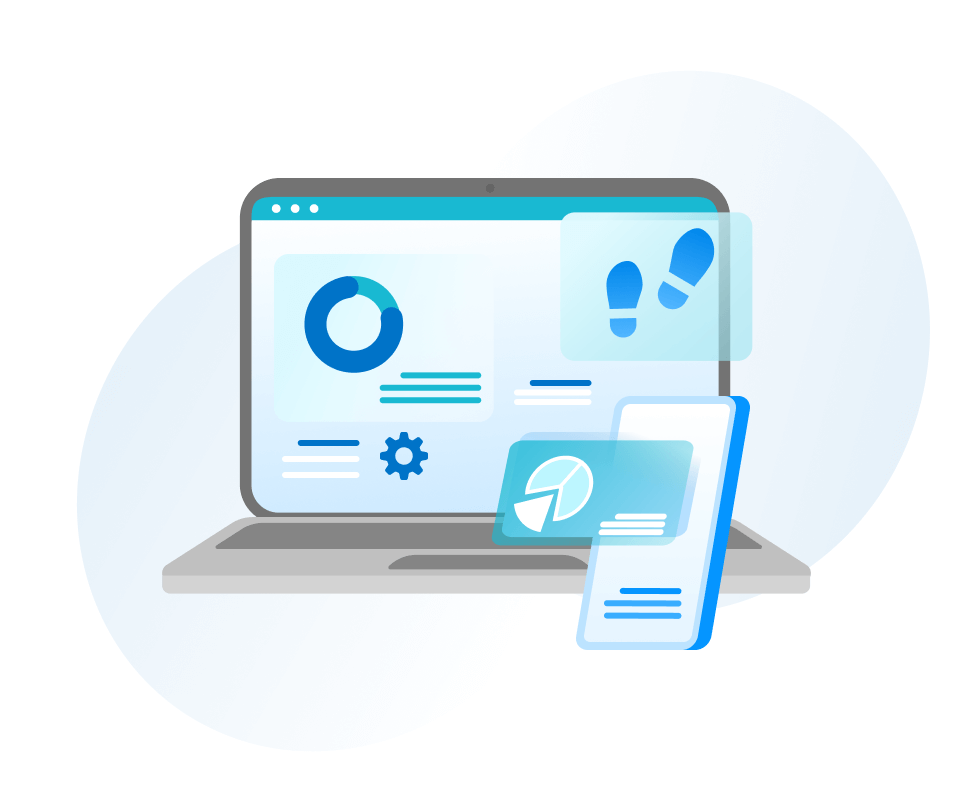 Customized Online Footprint Analysis Backend
Assisting government agencies in integrating the online footprints of their Apps and websites, understanding the effectiveness of each push notification, and providing scientific optimization metrics.
The Largest Consumer and Footfall Data Tourism Platform in ASIA
Mastering the most comprehensive data on mobile footfall and consumer behavior, presenting the effectiveness of governance through visualizations of key indicators. This includes regional consumption patterns, potential tourist attractions, domestic and international tourist footprints, tourism revenue, and more. We provide direct  and insightful analysis reports based on these data sources.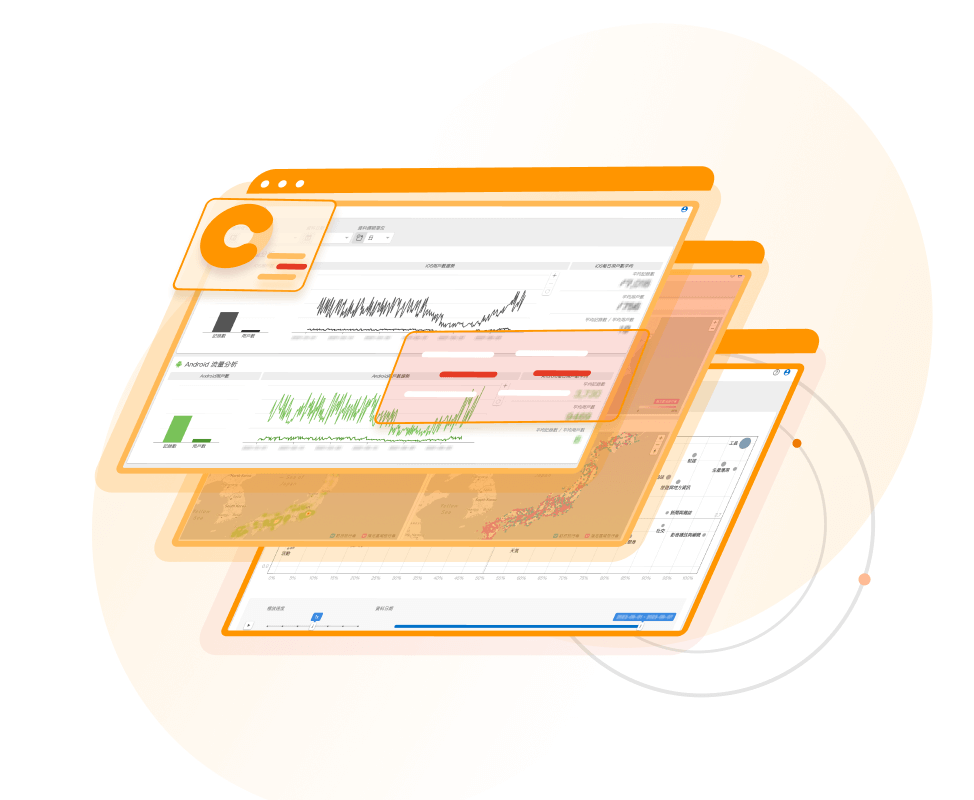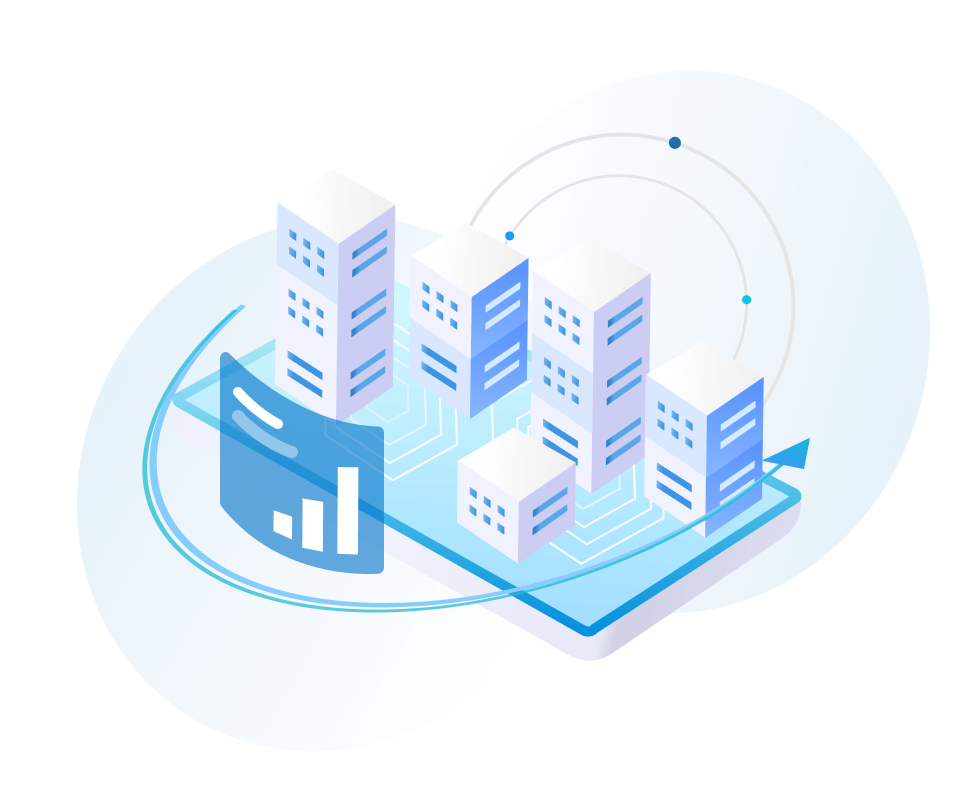 By leveraging the most comprehensive database of footfall and consumer data, combined with top-notch data scientists, we provide data-driven solutions for smart city development in areas such as transportation, tourism, and business district planning. Data is at the core of our approach to address the challenges and opportunities in smart city development.
Applications of AI in Smart Governance
Starting from the demand of government agencies, the adoption of artificial intelligence systems effectively reduces human errors and enhances operational efficiency and effectiveness.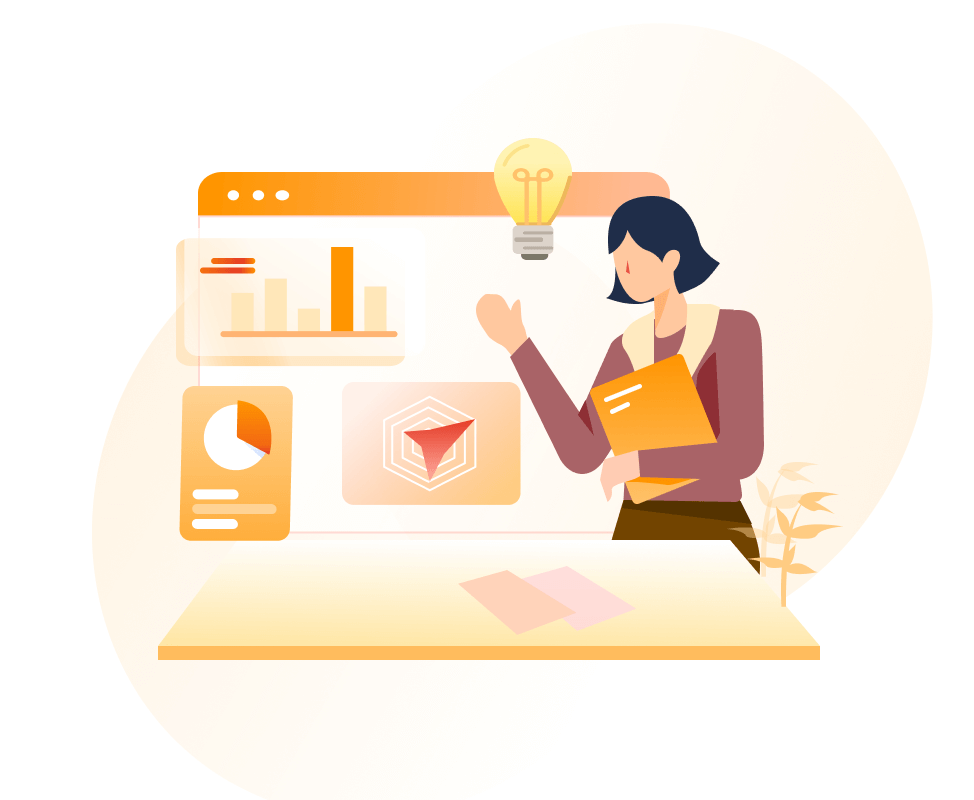 150% Increase of In-App Campaign Effectiveness
Assisting the departments with demand in segmenting App or Web users based on different campaigns notification goals, such as shopping festivals, lantern festivals, public awareness campaigns, and other various topics, in order to improve the effectiveness of the campaign notifications and increase the achievement rate.
+20M Increase in Tourism Revenue
Assisting the departments with demand in defining target tourist audiences through the PDCA (Plan-Do-Check-Act) process, successfully attracting tourists to designated tourist destinations, and driving significant growth of local tourism revenue.
Discovery of 50+ Ineffective Bus Stops
Identifying low usage bus stops and high-traffic areas for the addition of new stops to optimize the bus system and enhance traffic efficiency.
Discovery of 100+ Potential Tourist Routes
Due to many existing popular tourism spots are losing its novelty, we utilize consumer data to quantify the value of new potential tourist destinations, by identifying this, it is possible to gain insights of the overall economic impact from tourism industry and proceed strategic enhancement plans.
>15% Reduction in Manpower Costs
Create visual reports to present city data in a clear and comprehensive manner, significantly reducing the time and cost of data analysis, and accelerating the quality and efficiency of decision-making through data.
Positioning of +50M Worth of Business Districts
Assist the departments with demand in quantifying the existing and potential value of commercial districts and categorize them based on their characteristics. Focus on analyzing the flow of people within these districts to maximize their economic value.
Government Big Data Solution – Case Studies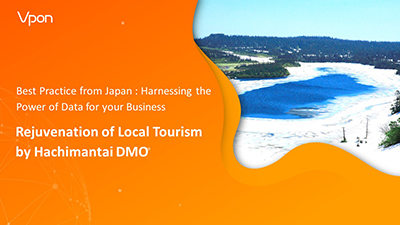 Rejuvenation of local tourism by Hachimantai DMO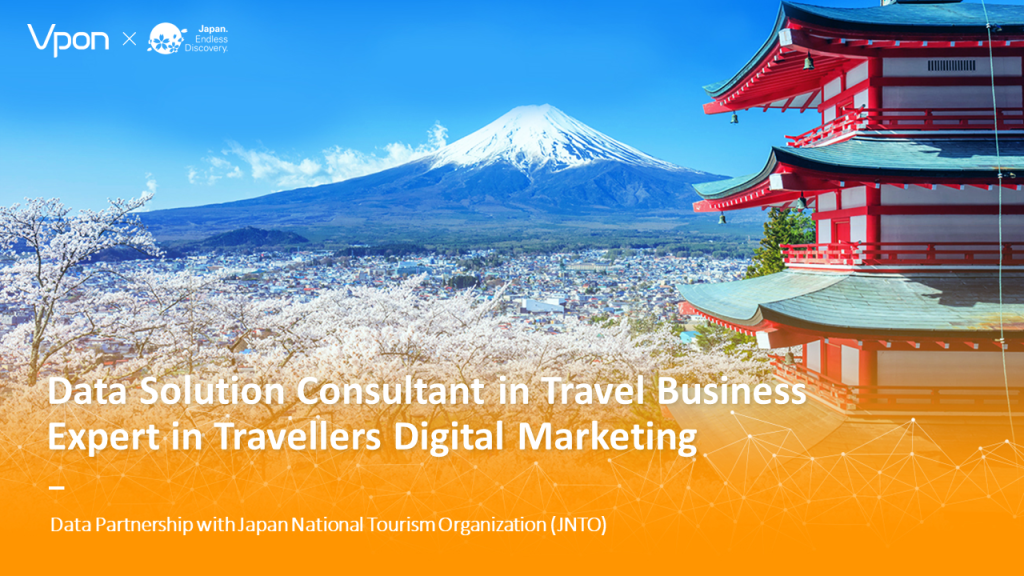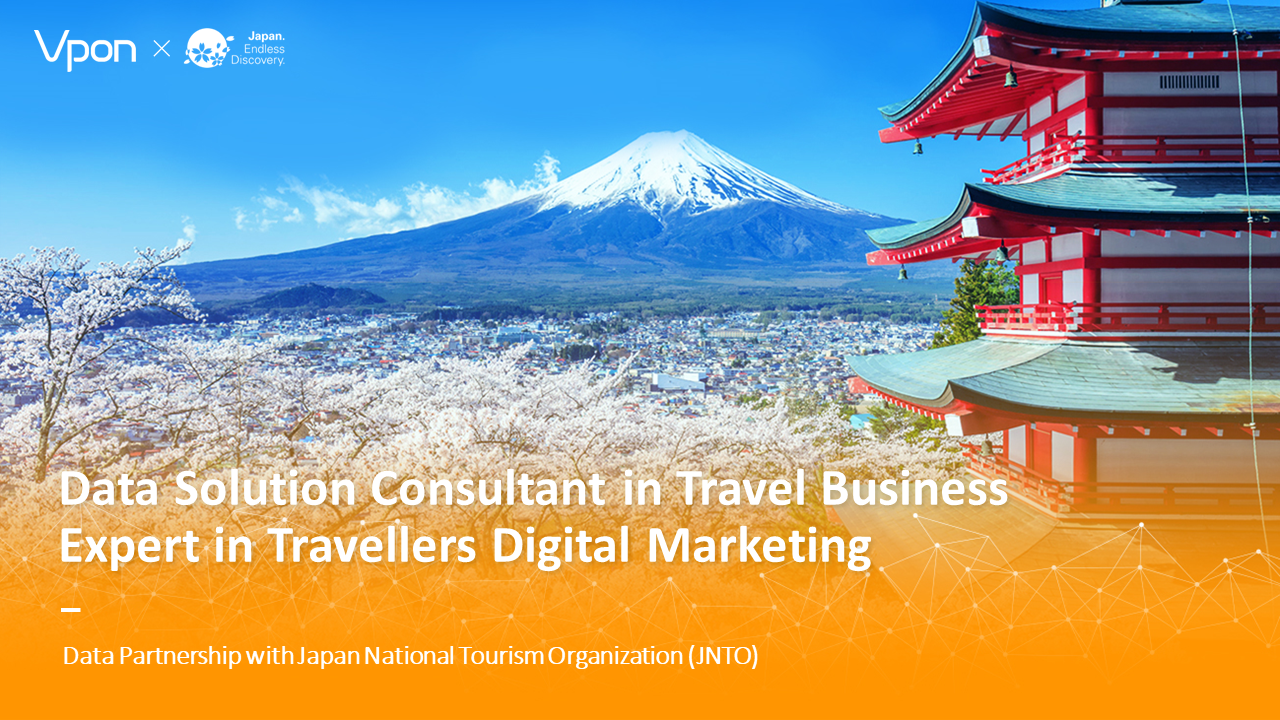 Japan National Tourism Organization (JNTO)
Data solution consultant in travel business expert in travellers digital marketing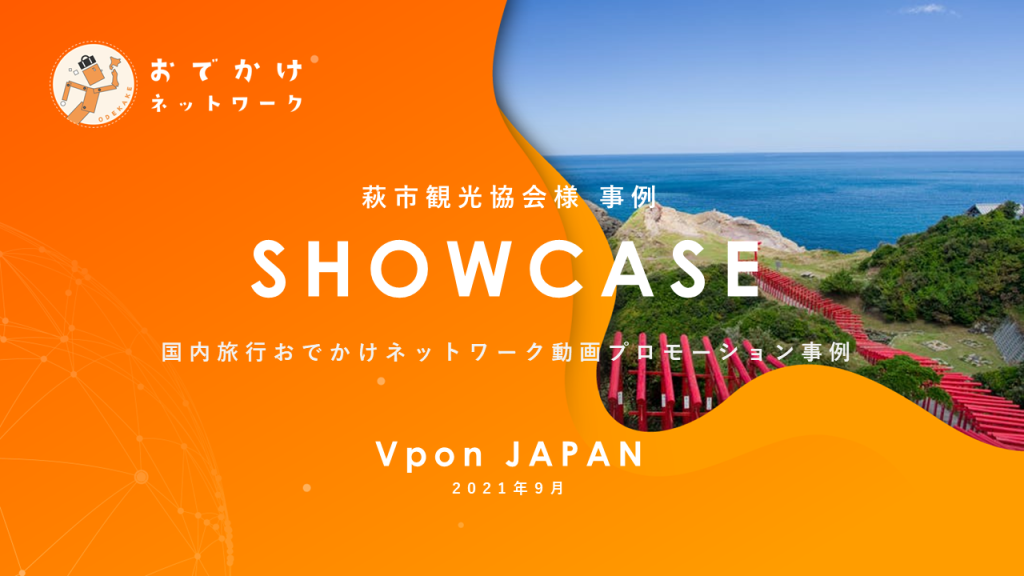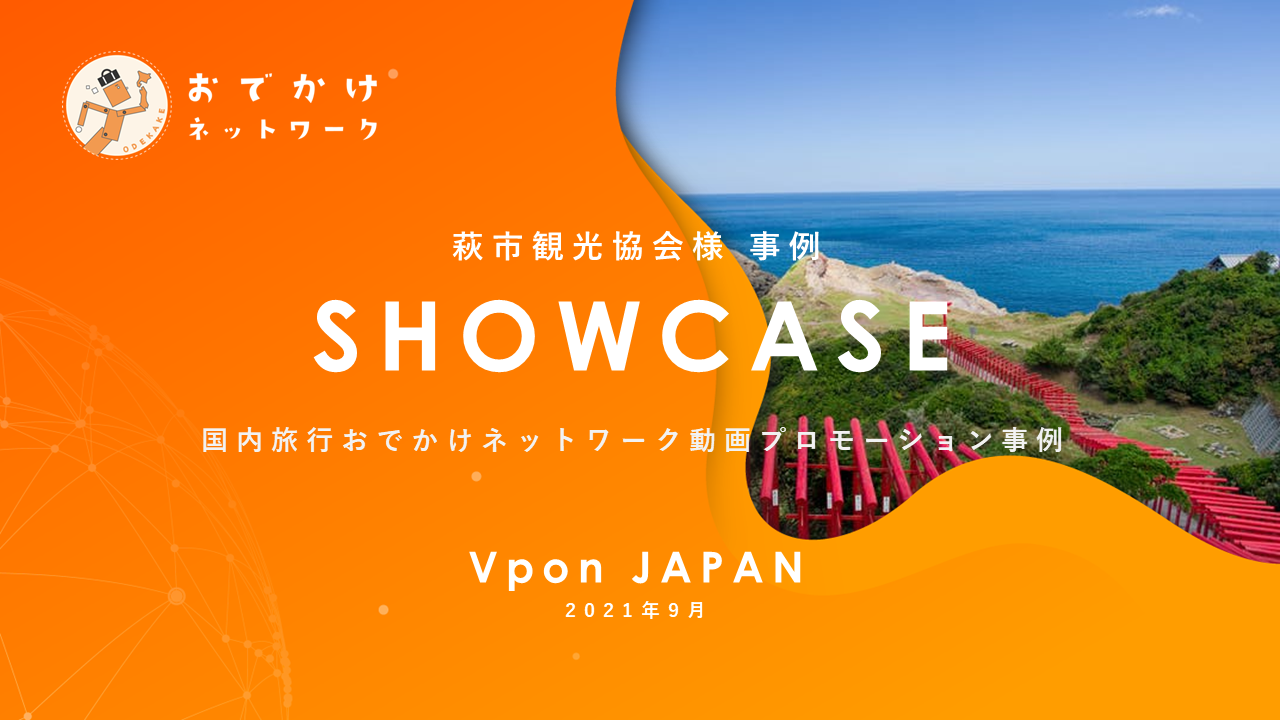 Inbound tourism – Hagi City
Experience the digital transformation