In the age of the never-ending influx of livestreaming content, video has won the race in grabbing eyeballs in a shorter time and grasping the hearts of consumers when compared to text, thus becoming the golden child of driving sales for major brands and corporations. Apart from the traditional televised advertisements and outdoor billboards, smart TV, OTT streaming platforms are the hottest platforms for video advertising.
To maximize your exposure with limited resources in the kaleidoscope of videos on various platforms, combining all tools to achieve an all-rounded effect and analyzing data from multiple angles is essential for exposure and brand imagine-building goals.
Video advertising trends
To maximize your exposure with limited resources in the kaleidoscope of videos on various platforms, combining all tools to achieve an all-rounded effect and analyzing data from multiple angles is essential for exposure and brand imagine-building goals.
1. Reels are all the rage, so grab attention in 10 seconds
In the age of the endless stream of information, the ways and duration of users accepting information has become increasingly fragmented. Video advertising has become shorter, and how to catch users' attention in 8-10 seconds, condensing video content, and to make use of the few seconds to display eye-catching content has become the main points of consideration when brands invest in video advertising. Brands will use reels to catch consumers' attention, collect data through every ad exposure, and target specific consumer groups in the next wave of advertising, providing a longer version of the video ads, reinforcing memory of the brand for the targeted consumer group.
2. Choosing appropriate video content according to targeted consumer groups
When choosing video content, the first consideration should be the objective, then move on to planning how the video content should be displayed. Enhancing sales, increasing brand awareness, reinforcing connection between the brand and consumer, all these objectives lead to different video content planning. When video content matches the needs of consumers and creates relatability among consumers, the consumers will be more willing to accept the information provided by the brand.
3. Data-driven accuracy and elevating share of mind
"Where consumers are, advertising follows." Video advertising can rely on analyzing big data to target groups of interest, then moving on to A-B tests, verification and rolling-wave planning to achieve the highest cost-effectiveness. Compared to traditional advertising, the strategic targeting of advertisements can strengthen the ad message and attract the attention of targeted consumer groups.
Brands or corporations can also improve execution and planning of every ad according to different sales objectives. Through the data from previous ad campaigns, including reach, click rate and interactions, brands can utilize the data to target their consumer groups, such as excluding the previous group which viewed the ad, or discovering potential leads through data analysis, therefore increasing exposure
Types of Video Advertising
Video advertisement can be categorized into three types: In-stream, Out-Stream and Cross-Stream.
|   | In-Stream | Out-Stream | Cross-Stream |
| --- | --- | --- | --- |
| Types | Similar to televised advertisement, arranging for videos to be played before, in the middle, and after the featured video, which is also called pre-roll, mid-roll and post-roll advertisements. Usual length of the advertisements are around 15-30 seconds. | Also called "native video", which are the video ads displayed on the interface of Facebook and websites without affecting the users of the platform. | A form of fragmented advertising method, through multi-media and multi-platform advertisement streaming, it effectively reaches users. |
| Features | In-stream advertisements are beneficial as the users will pay higher attention to the advertisement without being distracted, allowing them to unconsciously absorb the full message of the advertisement. | The biggest difference between Out-Stream and In-Stream ads is the locations of display and the content where attention is directed, although Out-Stream ads gain higher exposure, users might skip it or watch only a fragment of the ad. | Through collecting user profiles in big data, it is beneficial when thinking where to place suitable advertising content with precision, and maximizing in-depth communication and exposure. |
The 3 Highlights of Vpon's Video Total Solution
How do Vpon help the clients to maximise video advertising?
1. Targeting: Access to high volume data to target the most suitable consumer groups
Targeting different user profiles (middle class, night owls, movie fanatics etc.), ad preferences (furniture, health and wellness, beauty products, electrical appliances etc.), trajectory and consumer behavior, allows you to place suitable advertisements with high accuracy.
2. Creative: Stockpile of creative templates to increase interaction with users, amplifying turnover rate
Vpon never cease to update and create the latest forms of video advertising, providing tailor-made ads according to ad creators and targeted consumers' needs. Creating various interactive ads on the most popular forms of advertising such as banners, interstitial ads and native ads, allows the users to not only watch, but interact with the ad through flipping poker, Rubik's Cube and many more.
3. O2O (Online to Offline): Linking online with offline, a perfect chain from user exposure to purchasing
For example, Vpon's collaboration with a household Taiwanese beverage chain was able to place ads targeted to movie lovers, through strategically placing ads with context marketing, combining interstitial ads, native ads and displaying the ad in theatres, linking online and offline behavior by exposing targeted groups with the full advertisement and sales of the drinks soared as a result.
Vpon video advertisement examples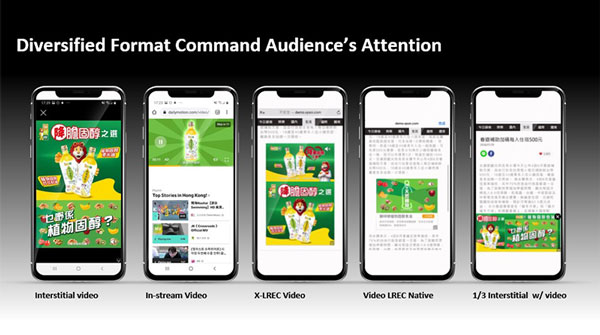 Multi-media Advertising
A Hong Kong edible oil brand is well known for its cooking oils. Recently, they launched a new line of Plant Sterol products of which the selling point is healthy and guilt-free products. They hope to expand their targeted groups of younger consumers through utilizing mobile devices, instead of their usual audience such as mothers and housewives. Through Vpon's market data analysis, the client was able to target the desired consumer group and plan advertising campaigns accordingly. They placed ads in various forms including interstitial ads, in-stream ads and banner ads, successfully attracting a viewing rate of over 50% on the ads.
Scenario-based Advertising
As the pandemic has ebbed in Taiwan, events and social gatherings has sprung up again, the Taiwanese beverage chain has launched group orderings in the hopes of attracting young office workers.
Through the context marketing strategy, Vpon was able to link online and offline behavior through digital ads such as interstitial ads and native ads. In light of the trend of bringing beverages into movie theatres, ads are also placed in theatres as an offline measure, maximizing the effectiveness of the advertisement through context marketing, grabbing the target group with an all-rounded approach.
▍Contact us to experience Vpon Video Advertising now!