[INSERT_ELEMENTOR id="5469″]
Oct 5, 2018 – Tokyo, Japan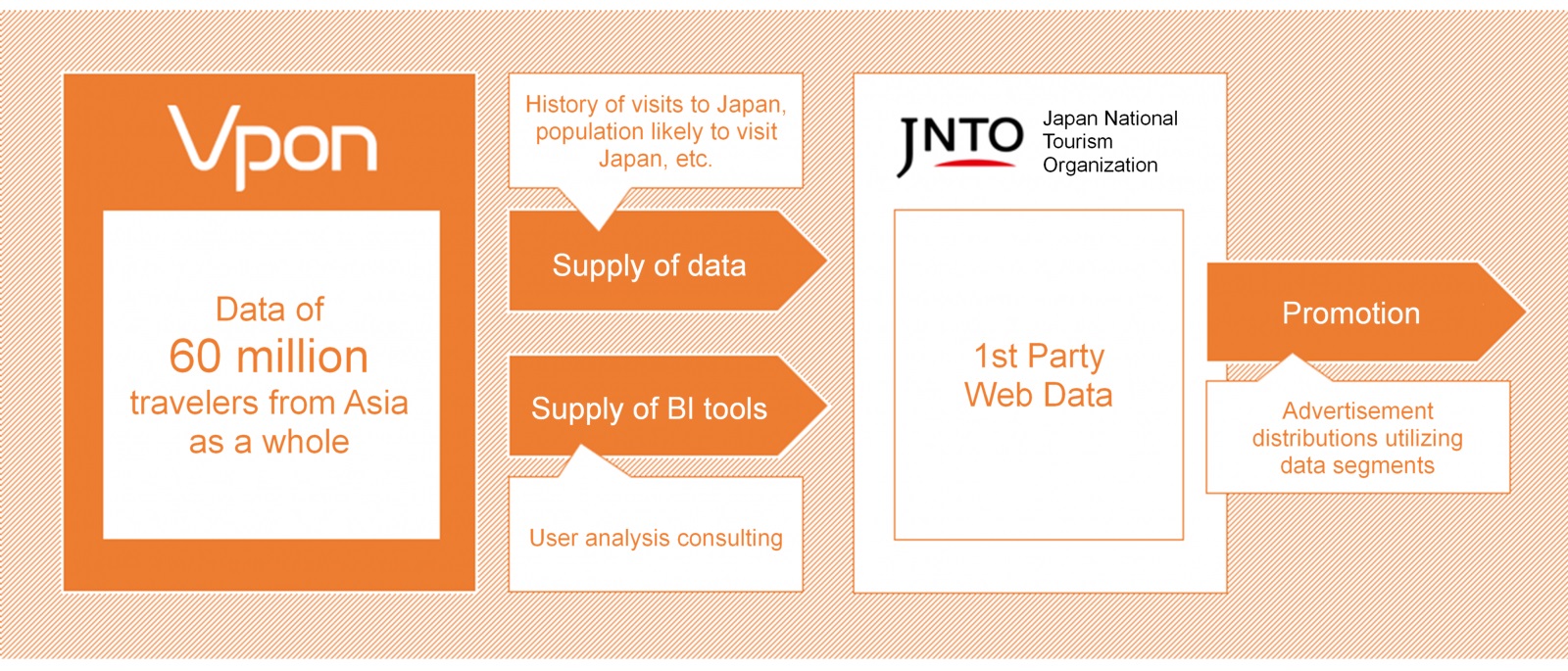 Vpon Big Data Group (Head office: Shinjuku-ku, Tokyo; General Manager: Yoshitaka Shinohara; hereinafter referred to as "Vpon"), which is engaged in inbound travel business (travelers visiting Japan), started providing data on 60 million travelers in the Asia Vpon possessed, primarily from Taiwan and Hong Kong, as well as their big data solutions with a specialization in inbound visitors, user analysis and BI tools to Japanese government agencies such as the Japan National Tourism Organization (JNTO). These services enable a more precise understanding of travelers visiting Japan and facilitate effective marketing approaches.
[Background on data supply and BI tools]
Foreign travelers are being induced to visit Japan, primarily by the Japanese Government and government agencies, while competition among different countries is intense. The Japan National Tourism Organization (JNTO) established their new digital marketing division in 2017 and started utilizing big data in order to effectively induce visitors to Japan, which are expected to reach 40 million by 2020 and 60 million by 2030.
Vpon, which has offices in Taiwan, Hong Kong, Shanghai, Tokyo and Osaka, started providing data segment of travelers visiting Japan for the purpose of activities implemented by government agencies, such as the Japan National Tourism Organization (JNTO). In the case of the Japan National Tourism Organization (JNTO), this service includes online user data analysis and a data visualization tool (Dashboard) to enhance the implementation of effective promotion of activities.
Schematic diagram of activities
[Future overview]
Vpon plans to offer seminars that are based on knowledge derived from activities described above, such as user analysis, and to inform interested parties at various cities about the effectiveness of utilizing data for inbound promotions.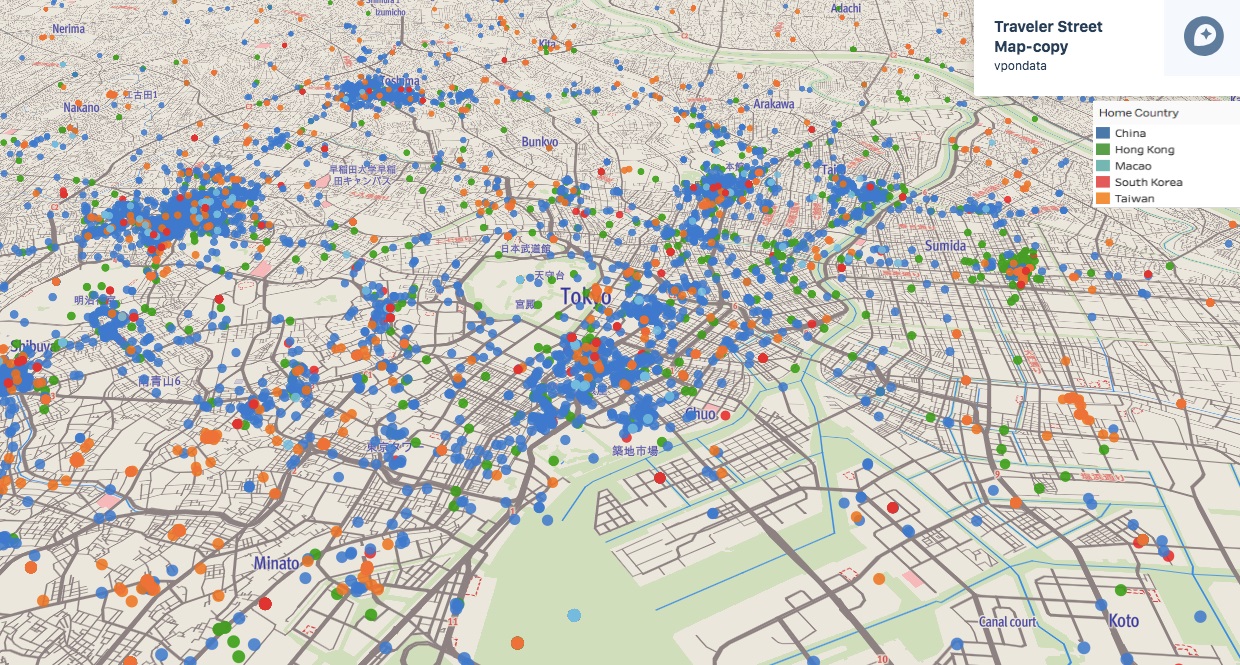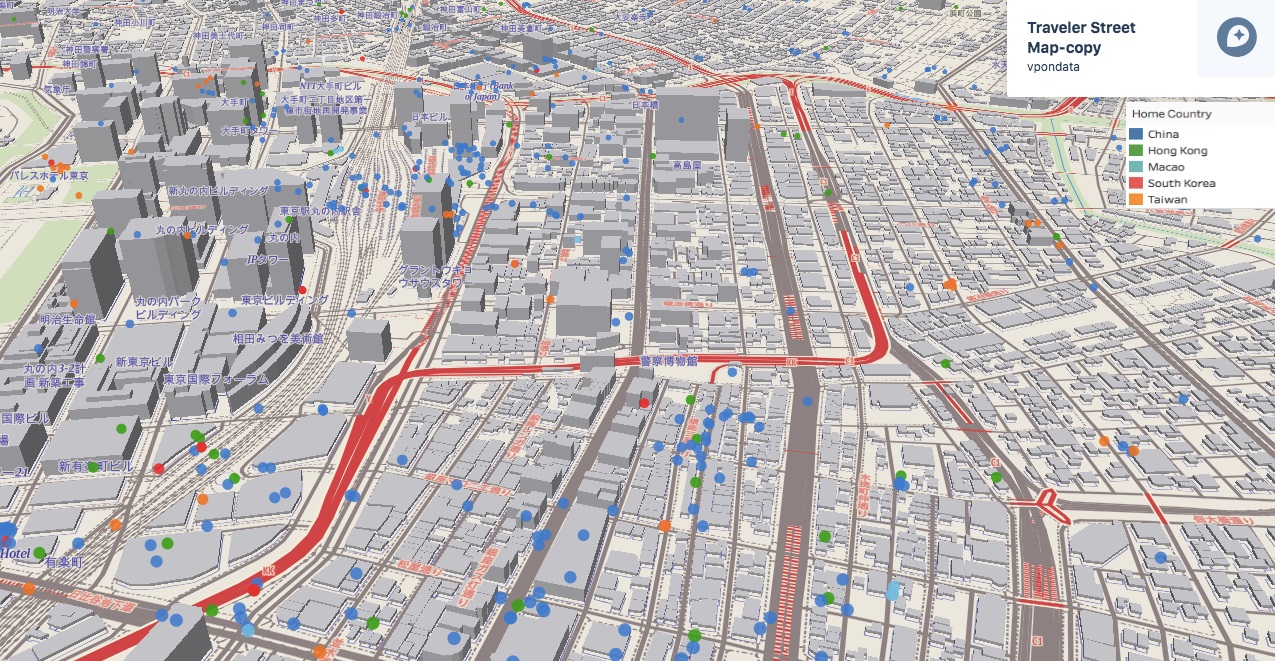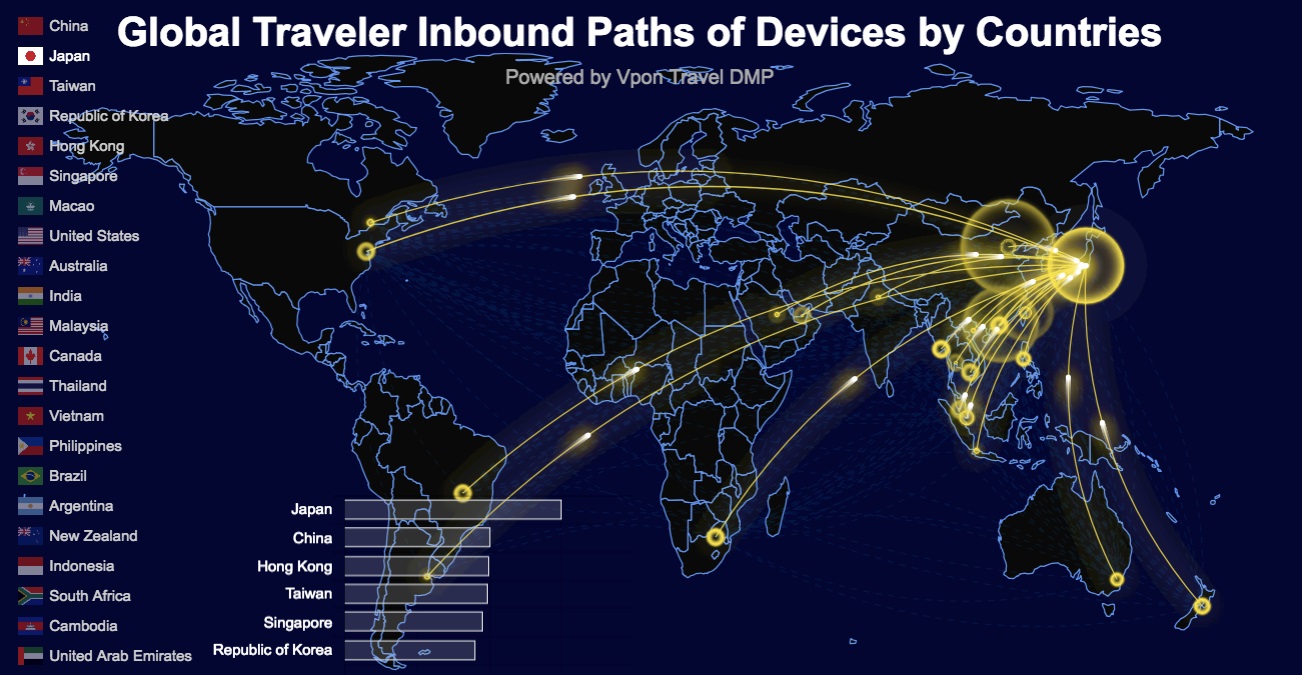 [About Vpon Big Data Group (Vpon Japan)]
Address: Tokyo Head Office ELPULIMENTO shinjyuku, 6-7-1 Shinjuku, Shinjuku-ku, Tokyo
Osaka Sales Office Bingomachi Yamaguchigen Building 9F, 3-4-1 Bingomachi, Chuo-ku, Osaka City
Establishment date: August 2014
Representative officer: Yoshitaka Shinohara, President & CEO
Service details:
Big data analysis, consulting solutions business, inbound related data provision business
Inbound digital marketing support business targeting the whole Asian region
Website: https://www.vpon.com
Official Facebook page: https://www.facebook.com/vponjapan
Official Twitter account: https://twitter.com/vpon_japan
[Contact for media inquiries]
Marketing Communication Office, Vpon Japan K.K.
Phone: +81-3-6361-0252 E-MAIL: staff_jp@vpon.com
Teamwork makes the dream work.

Osaka Convention & Tourism Bureau

Regional partnars network (R-NET)
Network of local development organizations

Travel Technology Association

IT Innovation and Strategy Center Okinawa (ISCO)
Setting the Center could create adding value to promote the willing of industry innovation in Okinawa.

Kansai is located in the center of the main island of Japan, it takes about two hours by bullet train from Tokyo. As an old capital of Japan,the history and culture has been flourished here in KANSAI. Traditional Japanese beauty spreads throughout KANSAI.

Data Society Alliance (DSA)
DSA has realized a prosperous society (called "data society") through cross-disciplinary fairness, free data distribution and utilization through collaboration between industry, government and academia, not only in Japan but also around the world

Japan Interactive Advertising Association (JIAA)
JIAA is an association whose purpose is "to develop soundly and expand the market by gaining social trust from advertisers and consumers through improvement and enhancement of the environment for Internet advertising business activities, while recognizing the social responsibility that advertising activities conducted via the Internet are the economic foundation supporting digital content and network communications.

Japan Alternative Data Accelerator Association (JADAA)
To Enhance the Ecosystem in Asset Management

LBMA Japan(ロケーションベースドマーケティングアソシエーションジャパン)
Location Based Marketing Association Japan(LBMA Japan)
It is a business association that promotes marketing services utilizing location-based data.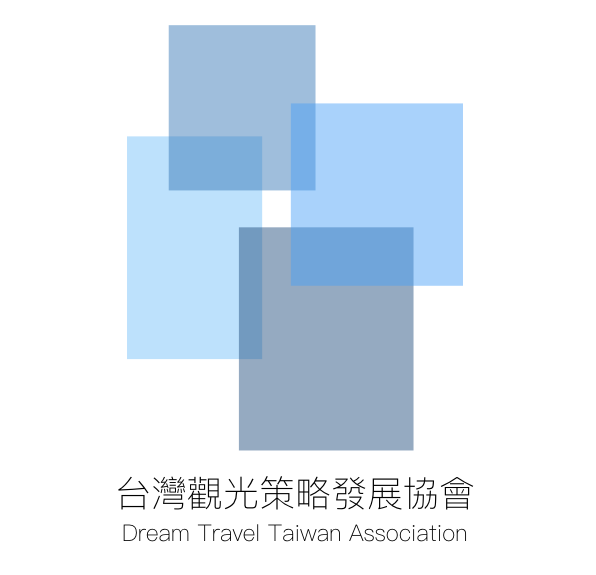 Dream Travel Taiwan Association(DTTA)
DTTA continues to promote local sustainable tourism by connecting local creative partners, as a selling point and backing for "international marketing of Taiwan tourism".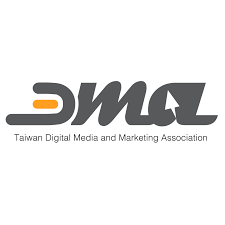 The Digital Marketing Association(DMA)
DMA is a large-scale and influential digital marketing-related association in Taiwan.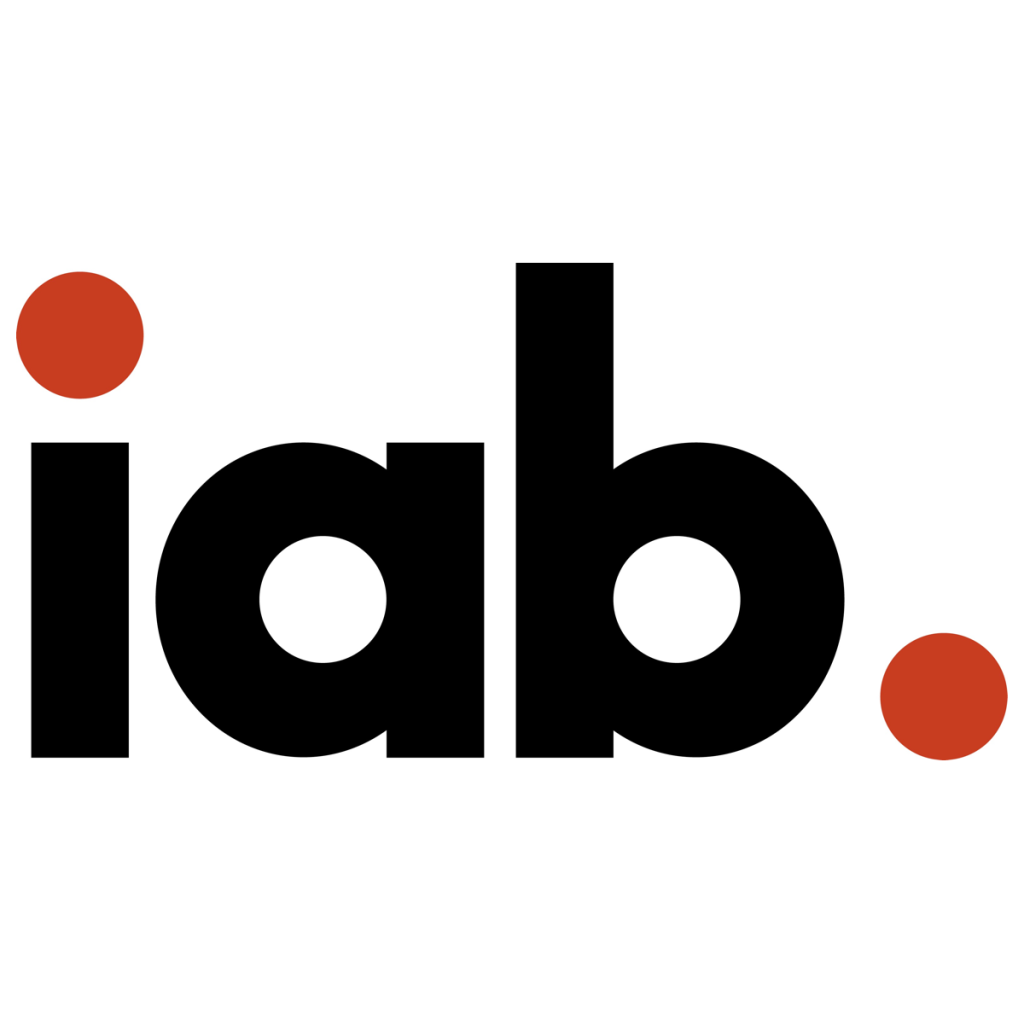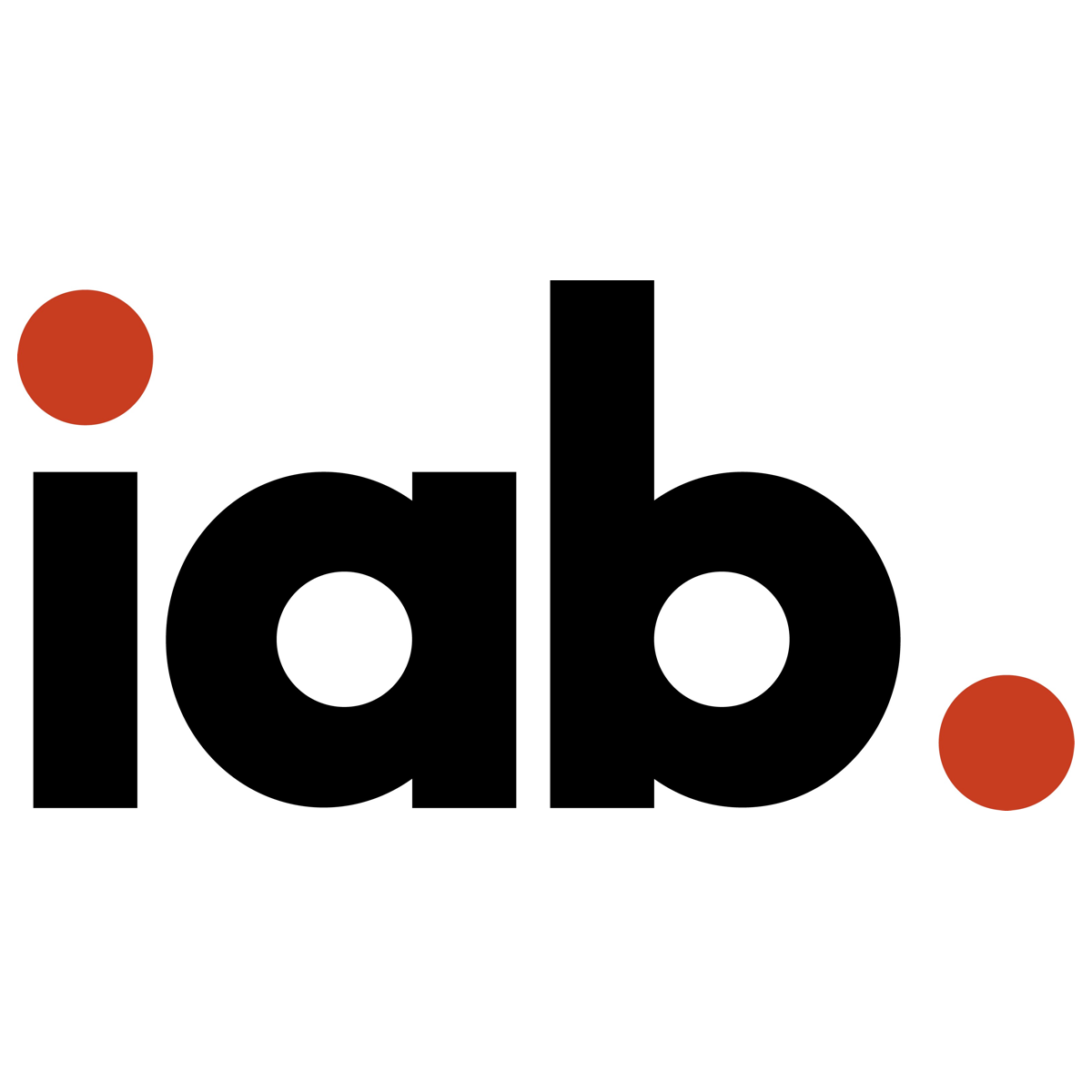 Interactive Advertising Bureau Hong Kong (iab)
SDK certification as a global standard