[INSERT_ELEMENTOR id="5469″]
Dec 10, 2018 – Vpon, APAC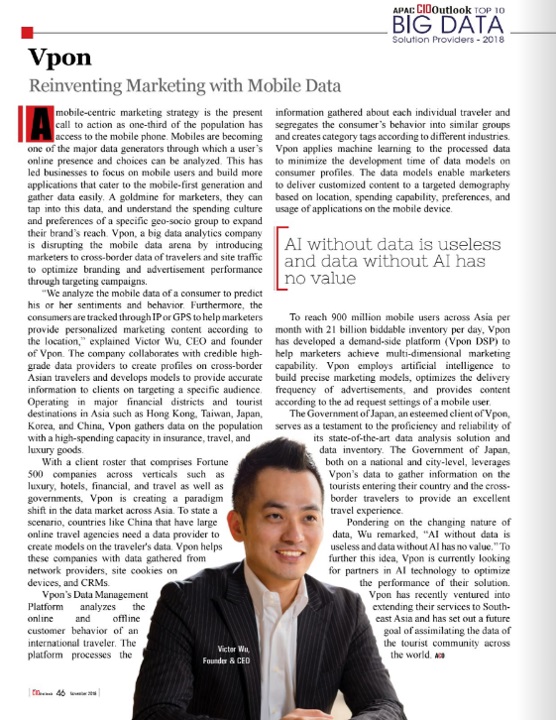 Today, with the convergence of artificial intelligence, big data and machine learning, it has opened up endless possibilities for advertisers to utilizing this technology to its fullest. It is no doubt that mobile is becoming one of the major data generators through which a user's online presence and preferences can be analyzed.
In a recent interview with APAC CIO Outlook Magazine*, our CEO and founder, Victor Wu explained on how Vpon has disrupted the mobile data arena by introducing the use of cross-border travelers' data and site traffic to optimize branding and advertising performance through tourist-related behavioral data and advanced use of data analytics, which can accurately track Asian tourists and deliver mobile ads at the right time.
With the high penetration of mobile coverage, Vpon is able to reach 900 million unique mobile devices across Asia with up to 21 billion real-time biddable inventory per day. Vpon also employs artificial intelligence to build predictive models, optimizes the delivery frequency of advertisements, and provides relevant content according to the ad request settings of the mobile user. 
One of our esteemed clients, Japan National Tourism Organization (JNTO) has largely leveraged our data to garner useful insights about cross-border travelers on their entire digital footprints before, during and after their trips, ensuring that our different dimensions of data help JNTO spot high-potential tourists, and unleash the full potential of data-driven marketing.
Pondering on the changing nature of data, Wu remarked, "AI without data is useless and data without AI has no value."
*APAC CIO Outlook Magazine is one of the most well-known magazines published from the hub of technology Silicon Valley with editorial presence in all major APAC countries.
Read the full article:
https://www.apacciooutlook.com/magazines/November2018/BigData//#page=46   
Teamwork makes the dream work.

Osaka Convention & Tourism Bureau

Regional partnars network (R-NET)
Network of local development organizations

Travel Technology Association

IT Innovation and Strategy Center Okinawa (ISCO)
Setting the Center could create adding value to promote the willing of industry innovation in Okinawa.

Kansai is located in the center of the main island of Japan, it takes about two hours by bullet train from Tokyo. As an old capital of Japan,the history and culture has been flourished here in KANSAI. Traditional Japanese beauty spreads throughout KANSAI.

Data Society Alliance (DSA)
DSA has realized a prosperous society (called "data society") through cross-disciplinary fairness, free data distribution and utilization through collaboration between industry, government and academia, not only in Japan but also around the world

Japan Interactive Advertising Association (JIAA)
JIAA is an association whose purpose is "to develop soundly and expand the market by gaining social trust from advertisers and consumers through improvement and enhancement of the environment for Internet advertising business activities, while recognizing the social responsibility that advertising activities conducted via the Internet are the economic foundation supporting digital content and network communications.

Japan Alternative Data Accelerator Association (JADAA)
To Enhance the Ecosystem in Asset Management

LBMA Japan(ロケーションベースドマーケティングアソシエーションジャパン)
Location Based Marketing Association Japan(LBMA Japan)
It is a business association that promotes marketing services utilizing location-based data.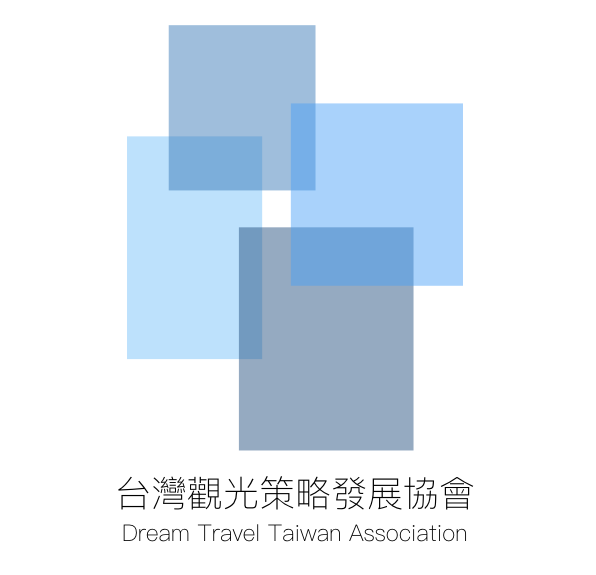 Dream Travel Taiwan Association(DTTA)
DTTA continues to promote local sustainable tourism by connecting local creative partners, as a selling point and backing for "international marketing of Taiwan tourism".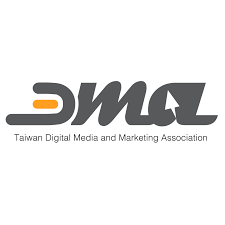 The Digital Marketing Association(DMA)
DMA is a large-scale and influential digital marketing-related association in Taiwan.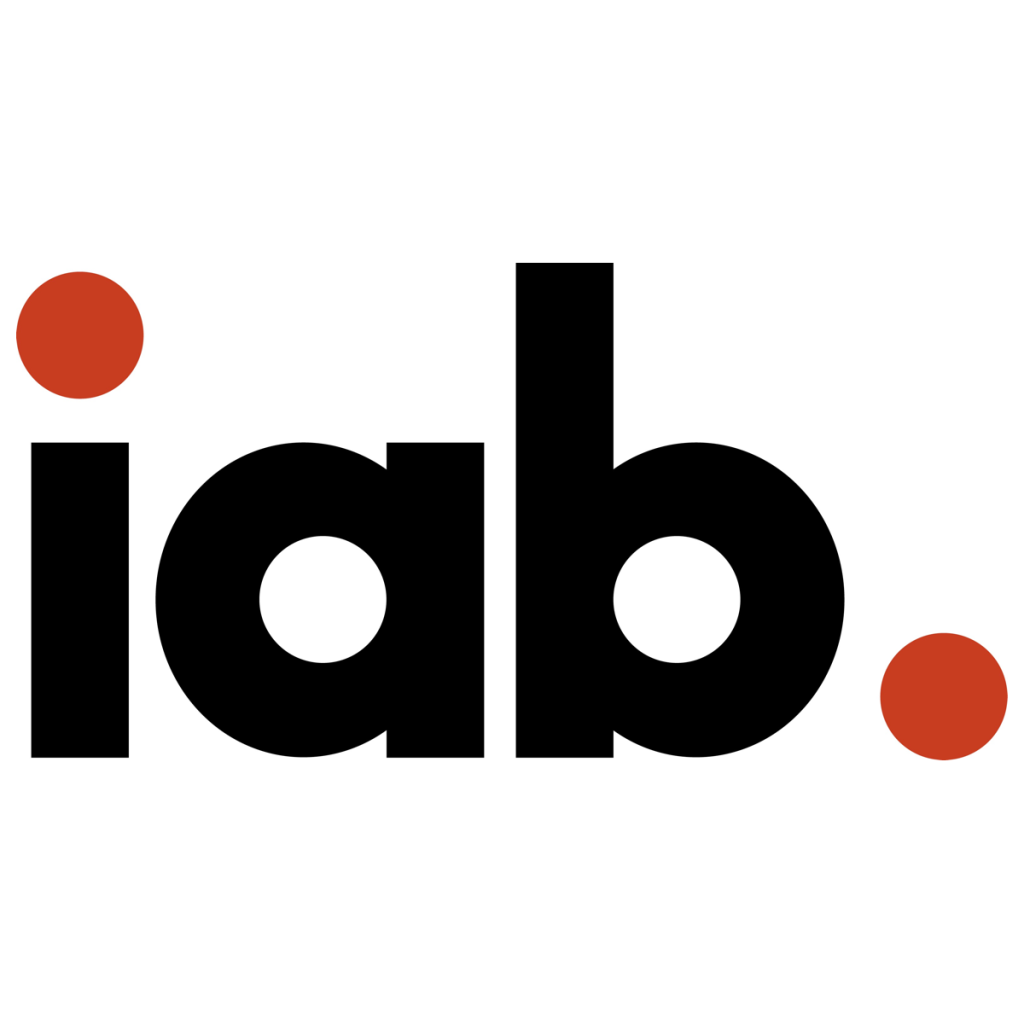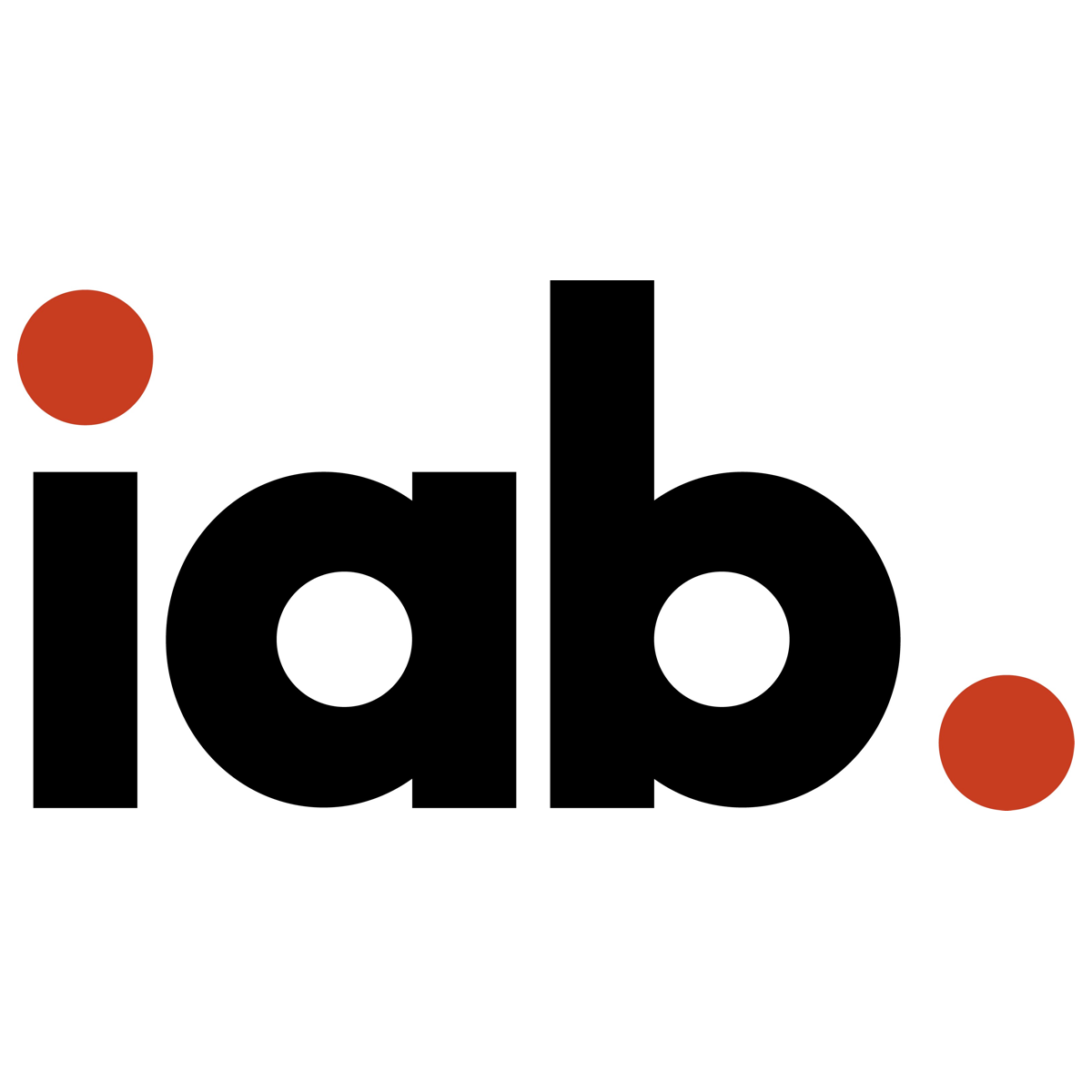 Interactive Advertising Bureau Hong Kong (iab)
SDK certification as a global standard