Covid-19 has undoubtedly changed consumer behavior in which Vpon's own data unveiled a rapid increase in app usage for consumption. The "New Normal" is redefining people's way of living which brings a new business synergy to marketers.
So, how could marketers turn challenges into opportunities when approaching the new market?
Embracing digital transformation could be the first step to propel into new business environment. Vpon has currently collaborated with different m-commerce businesses to showcase how leveraging data to achieve business diversification strategy and keep up with the new market synergy.
How to identify and understand potential audience in the new market?
How to reach your new target audience?
How could the market know your diversified positioning and services?
In response to these challenges, our clients have partnered with Vpon to boost App Usage and App Download Rate through business diversification.
How We Do? – 3 Steps Approach
Sort out and target previous loyal campaign clickers: By tracking previous users' intent and re-target users who have previously clicked on related campaign items, we map out potential audience to reach and communicate with them for stimulating interest in new services.
Exclusive Location-Based Solution: With exclusive LBS technique, we learnt users' digital footprints, locked in and reached audience who live near to clients' pinpointed delivery spots. Then, we analyzed their app preference to further trigger and expand their interest on new service promotion.
Leveraging Vpon's DMP to expand audience pool: Adopting lookalike model to further identify more potential TAs in other segments. Personalized ad content messages could be delivered to specific segments accordingly.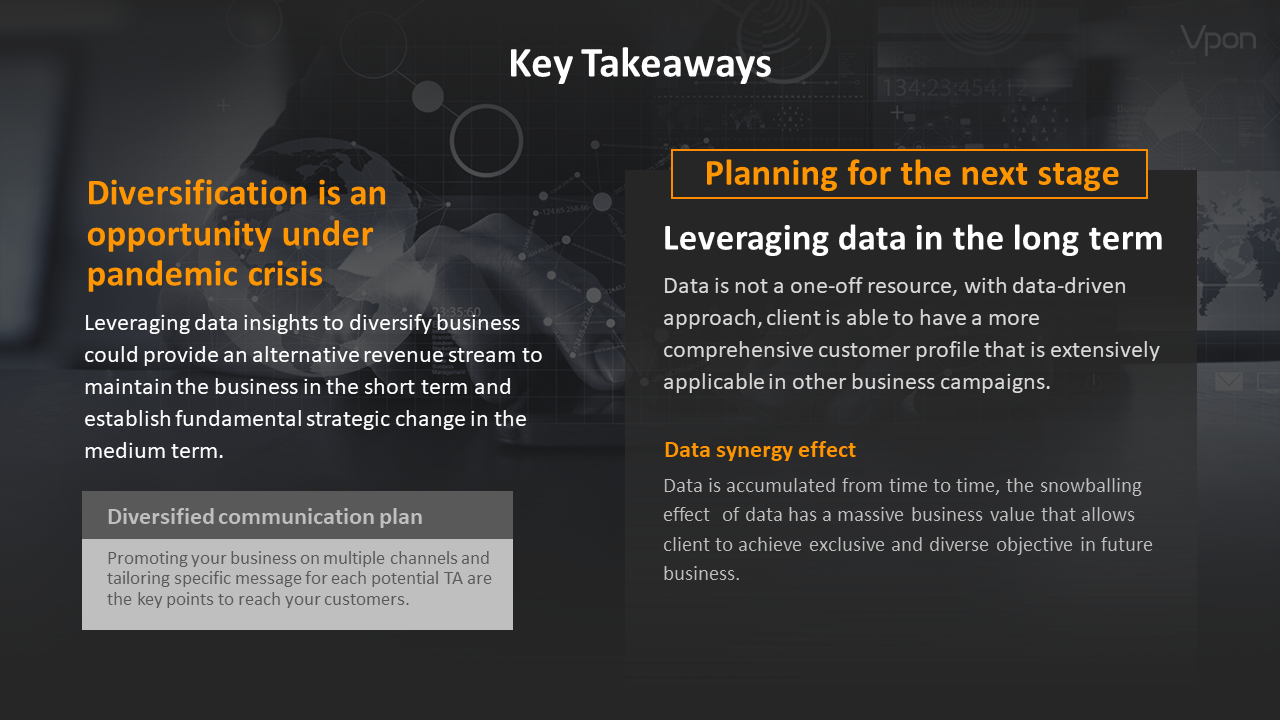 Leveraging data insights to formulate divisification strategy: Leveraging data insights to diversify business could provide an alternative revenue stream in short term and establish fundamental strategic change in medium term. Hence, partnering with data expertise, like Vpon could also be an alternative for industry players to kick start or optimize their expansion strategy.  
Leveraging data in long term: With data-driven approach, clients can stay ahead of the rapidly changing trends. The data cycle creates a snowballing effect to accumulate data information from time to time and create valuable insights which allow clients to achieve exclusive and diverse objectives in future business.
▍To download our full report 👉️ 
▍If you wish to learn more, please do not hesitate to contact us:
marketing@vpon.com